Fair Play (2023 Film) Introduction and Wiki
Fair Play is an upcoming Comedy, Musical film which is directed and written by Chloe Domont. The main cast includes Phoebe Dynevor, Alden Ehrenreich, Eddie Marsan, and others.
The production work of this Series is done by the following production company MRC Film, and Star Thrower Entertainment. Famous Distributor Netflix distributes it.
| | |
| --- | --- |
| Title | Fair Play |
| Genre | Drama, Mystery, Thriller |
| Director | Chloe Domont |
| Language | English |
| Country | United States |
| Distributor | Netflix |
Fair Play Parents Guide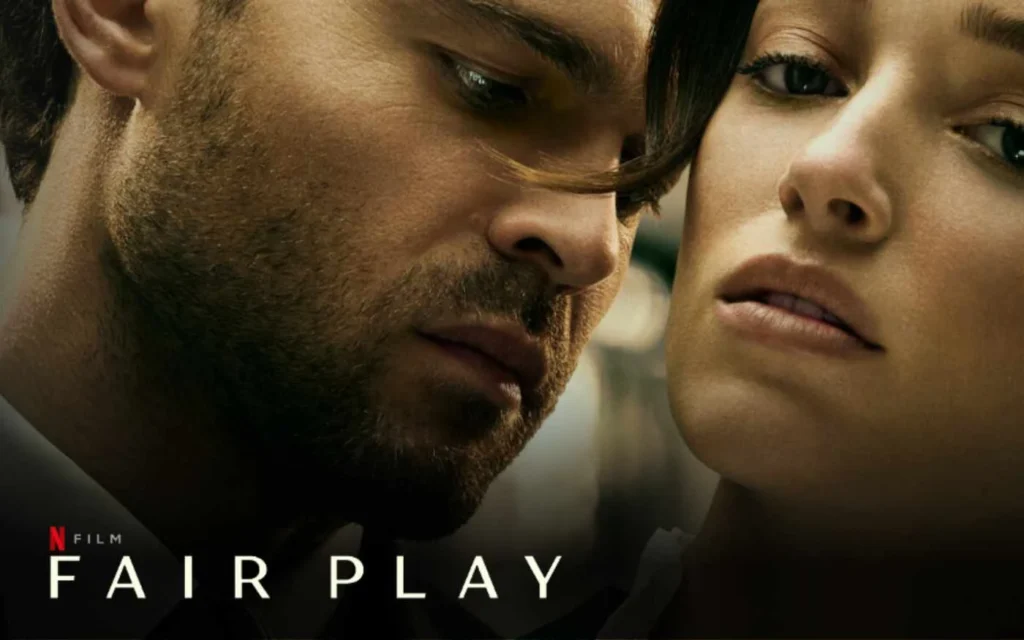 Fair Play Age Rating
Why Fair Play is rated R?
MPA Rating- Fair Play is Rated R for strong crude sexual content, graphic nudity, pervasive language, and brief drug use.
The R rating indicates that the content is intended for adult audiences, typically 17 years and older. This suggests that the film may contain content that is not suitable for younger viewers and could be potentially offensive or inappropriate.
Film Fair Play Parents Guide
Here is the detailed content guide about the film that parents should read before letting their kids watch the film. Our parents guide for Fair Play will help you to decide if Fair Play is OK for kids and you will also get to know if Fair Play is appropriate for kids or not.
Sexual Content and Nudity
Many couples have been shown kissing in this film.
A lot of Nude Scenes is present
A man and woman having sex on a bed both are nude
Strong Sexual Content throughout the film
Profanity/Language
The use of strong and pervasive language throughout the film, which includes profanities and potentially offensive terms.
Alcohol and Drug use
Brief Drug Use: The film includes instances of drug use, though they are portrayed briefly.
Parental Considerations
Given the film's R rating, parents and guardians are advised to exercise caution when considering whether the content is appropriate for their children.
The explicit content detailed in the age rating suggests that the film is intended for mature audiences who can handle adult themes, strong language, and sexual content.
Parents should consider their child's maturity level, comfort with explicit content, and their family's preferences when making a decision about viewing.
Other Details
Here is the synopsis, cast, and trailer of Fair Play.
Fair Play Release Date
Fair Play is scheduled to be released on October 13, 2023. You can watch Fair Play on Netflix.
What Fair Play is about?
The film follows an unexpected promotion at a tough hedge fund that pushes a young couple's relationship to the brink, threatening to expose much more than just their recent engagement.
Who is in the cast of Fair Play?
Here, is the list of Fair Play Cast and Characters
Phoebe Dynevor as Emily
Alden Ehrenreich as Luke
Eddie Marsan as Campbell
Rich Sommer as Paul
Sebastian De Souza as Rory
Sia Alipour as Arjun
Yacine Ramoul as Jeremie
Brandon Bassir as Dax
Jamie Wilkes as Quinn
Freddy Sawyer as Derek
Geraldine Somerville as Emily's Mother
Patrick Fischler as Robert Bynes
Laurel Lefkow as Luke's Mother
Buck Braithwaite as Theo – Luke's Brother
Jim Sturgeon as Uncle J
Linda Ljoka as Mrs. Meyers
J. Pace as Noah's Analyst #1
Abe Fark as Harris Analyst #2
Official Trailer
Conclusion
Fair Play Parents Guide: This is Drama, Mystery, and Thriller, but its R rating for explicit content serves as a cautionary sign for parents and guardians.
While the film may appeal to adult audiences who appreciate this type of humor, it's important for parents to make informed decisions about whether the content aligns with their family's values and their child's readiness for mature content.
Fair Play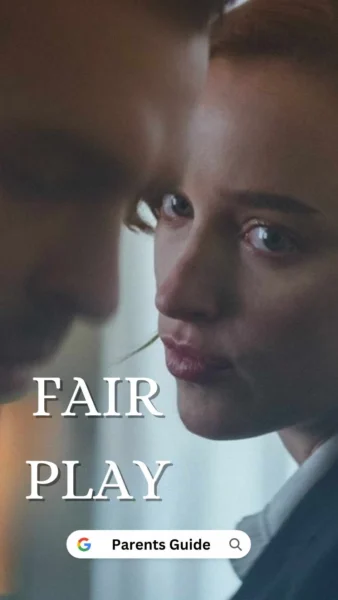 Director: Chloe Domont
Date Created: 2023-10-13 13:07