Centaurworld Parents guide and Age Rating
An Upcoming Netflix Animation series, Centaurworld. Directed by Kirk DeMicco and Created by Megan Dong. Executive Produced by Megan Dong, and Melissa Cobb.
Production Company: Netflix Animation Distributed by Netflix.
Our aim is to tell you the best simple and accessible age rating and make you aware of the content present in the film through the parent guide.
Check out Netflix's Centaurworld Age Rating, Centaurworld Parents Guide, Release Date, Cast, Official Trailer, and more.
| | |
| --- | --- |
| Series Name | Centaurworld |
| Genre | Animation, Comedy, Musical |
| Age Rating | TV-Y7 |
| Season | 1 |
| Episode | 20 |
| Directed by | Kirk DeMicco |
| Runtime | 23–25 minutes |
| Distributed by | Netflix |
| Official website | NetflixOfficial |
Centaurworld Parents Guide
Centaurworld Age Rating
Centaurworld is Rated TV-Y7 for some content shown in this series
TV-Y7-rated programs are designed to be watched by children the age of 7 and up. It may be more appropriate for children who have acquired the developmental skills needed to distinguish between make-believe and reality.
Themes and elements in TV-Y7-rated programs may include mild fantasy violence or comedic violence or may frighten children.
Age ratings are recommendations for parents and carers of kids to help them decide what is appropriate for their child depending on what stage of development they are at.
Centaurworld Parents Guide
Some scenes have a strobe effect that maybe affects photosynthetic viewers.
Comedy and funny, magical things.
The battle, use of weapons but very mild.
Scary creatures.
Animated violence
Talking animal
Half-human like creatures
Some emotional scenes
Overall the film is true kids-friendly.
Centaurworld Parents Guide
Netflix Series Centaurworld overview 
Centaurworld is an animal-centered twist on the familiar portal fantasy, where a character in a mundane world finds their way into a magical one. In its 10-episode first season, the show tries to mesh silly content and serious ideas, with varying results.
But the clever use of stylistic animation differences, as well as the unique approach to music for an animated show, makes it worth a watch — at least for viewers with a high tolerance for fart jokes.
Centaurworld follows a horse named Horse (Kimiko Glen), who falls through a magical rift that brings her to the brightly colored Centaurworld, a land full of half-human, half-animal hybrid creatures who frequently burst into song.
The centaurs aren't just traditional half-horse, half-human creatures — they come in all sorts of animal varieties, like the tiny-eyed mole tours and lumbering bear tours.
The horse finds a herd of quirky creatures, led by pink llama-taur Wammawink (Megan Hilty), who decides to help her get home. In order to return to her war-torn medieval fantasy world, where humans battle against monsters, Horse needs to find different pieces of a magical key by traveling to different areas of Centaurworld and retrieving them from magical centaur leaders known as Shamans.
Centaurworld Season 3 Release date
The Netflix Series Centaurworld Season 3 is expected to be released on December 2023 on Netflix.
Wallpaper and Images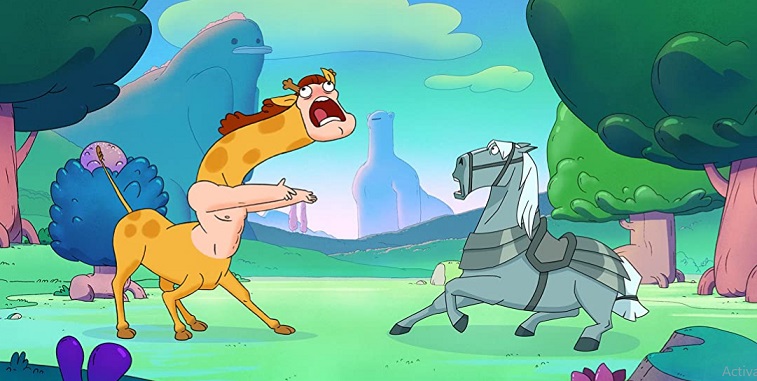 Who is in the Cast of Centaurworld
Here, is the complete list of Centaurworld Cast and Characters
Megan Dong as Glendale…
Parvesh Cheena as Zulius…
Chris Diamantopoulos as Ched…
Kimiko Glenn as Horse…
Megan Hilty as Wammawink…
Josh Radnor as Durpleton…
Allie Feder as Background Singer
Fletcher Sheridan as Background Singer
Jessie Mueller as Rider…
Randy Crenshaw as Background Singer
Baraka May as Background Singers
Toby Chu as Background Singers…
Nana Kouno as Horse…
Dee Bradley Baker as Stabby…
Carl Faruolo ss Gebbrey…
Renée Elise Goldsberry as Waterbaby…
Flula Borg as Comfortable Doug…
Fred Armisen as Splendib…
Official Trailer of Centaurworld
Centaurworld FAQ
What is the Age Rating of Centaurworld?
Centaurworld is Rated TV-Y7.
When will Centaurworld Season 3 be released?
Centaurworld Season 3 is expected to be released on December 2023.
Where can I Watch Centaurworld?
You can watch Centaurworld on Netflix.
Can teens watch Centaurworld?
Yes, teens can watch Centaurworld
Centaurworld Age Rating and​ Centaurworld parents guide
Know about Centaurworld age rating and parental Guidance here Centaurworld age rating in the UK, US, Canada, Ireland, Switzerland, and overseas is explained here.
In fact, the age rating is fixed by the MPAA( Motion Picture Association of America TV Series rating system),  BBFC (British Board of Film Classification), and Commons sense, TV Parental Guidelines (A television content rating system in the United States).
Stay tuned to get more updates on the age rating of all movies, tv shows, books, and games. Finally, any suggestions are always welcomed.
Also, please make use of the comment box for your reviews. We are always providing all age ratings for kids, We will make the easy and best way for your kids.