A Discovery of Witches Parents Guide
A British fantasy television series based on the All Souls Trilogy by Deborah Harkness. Produced by Edoardo Ferretti, Production companies are Bad Wolf, Sky UK, Sky Studios. Moreover, the TV series is distributed by Sky Vision, NBC Universal International Distribution
A Discovery of Witches Age Rating?
 A Discovery of Witches is rated TV-MA for fantasy violence, sexual content and language.
TV-MA  RATED MEANING: Programs rated TV-MA This series is intended to be viewed by mature, adult audiences and is unsuitable for children under 17.
A Discovery of Witches Season 3 Release date
TV series A Discovery of Witches season 3 is set to be released on January 8, 2022. 
Official Poster and Details
[su_box title="Why A Discovery of Witches Rated TV-MA " style="noise" radius="9″]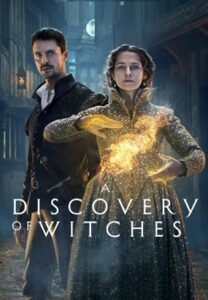 [su_table responsive="yes"]
[/su_table]
[/su_box]
Note! If you already watched the TV-Series, please inform us about the parental guidance here with your support, we can bring out a better vision to everyone.
A Discovery of Witches Parents Guide
Sexual content and Nudity are present in several episodes.

In a sex scene between the couple in a public street, their bare legs and buttocks are seen. 

A man and woman lay in bed together and sexual acts gasping and moaning.

Graphic violence and blood content throughout the series.

Scenes of a vampire eating a small animal. There are a number of Vampire characters who kill and drink the blood of people and animals.

People are attacked and killed on-screen throughout. 

A witch uses magic to torture another woman, the woman is shown screaming in pain and with multiple injuries. 

A man keeps a woman's decapitated but live head in a box and forces her to tell him prophecies.

A woman is sent photos of her brutally murdered parents, they are shown mutilated and bloodied

Use of profanity.  Several usages of the words 'f*ck', 'hell', and 'damn'

Use of alcohol- Wine is routinely consumed.
TV Series A Discovery of Witches Overview
season 1 
She's never been OK with her sorcery, yet after she finds a baffling, old book in one of the college's libraries and meets Matthew Clairmont (Matthew Goode), a vampire who contemplates the biogenetics of animals (witches, vampires, and daemons), an entirely different universe of potential outcomes opens up for her
season 2 
Looking for a tutor for her black magic, Diana meets the top of a neighborhood coven and an amazing witch who uncovers a mystery about Diana. Then, Matthew develops more at home in his previous lifestyle. In the current day, Domenico discovers a body in Oxford. Em rehearses higher sorcery to arrive at Diana's mom.
A Discovery of Witches- Wallpapers and Image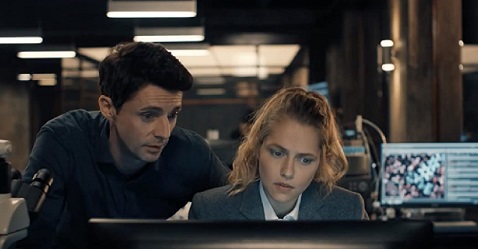 A Discovery of Witches Cast
Teresa Palmer as Diana Bishop, DPhil, Matthew Goode as Matthew Clairmont, Edward Bluemel as Marcus Whitmore, Louise Brealey as Gillian Chamberlain, Malin Buska as Satu Järvinen, Aiysha Hart as Miriam Shephard, Owen Teale as Peter Knox,
Alex Kingston as Sarah Bishop, Valarie Pettiford as Emily Mather, Trevor Eve as Gerbert d'Aurillac, Lindsay Duncan as Ysabeau de Clermont, James Purefoy as Philippe de Clermont, Steven Cree as Gallowglass
Official Trailer of A Discovery of Witches
[youtube https://www.youtube.com/watch?v=KYe-YkOSomg]
A Discovery of Witches Age Rating and​ A Discovery of Witches parents guide
Know about​ A Discovery of Witches age rating and parental Guidance here. The A Discovery of Witches age rating in the UK, US, Canada, Ireland, Switzerland, and overseas is explained here.
A Discovery of Witches age rating is MA15+ in Australia and 14 in Brazil. In Poland, it is rated 16 and M18 in Singapore. 15 in South Korea. In Spain rated 12. A Discovery of Witches rated 15 inUnited Kingdom and the TV-MA in the United States.
In fact, the age rating, fixed by MPAA( Motion Picture Association of America TV Series rating system),  BBFC (British Board of Film Classification), and Commons sense, TV Parental Guidelines (A television content rating system in the United States).
Stay tuned to get more updates on the age rating of all movies, tv shows, books, and games. Finally, any suggestions are always welcomed.
Also, please make use of the comment box for your reviews. We are always providing all age ratings for kids, We will make the easy and best way for your kids.