Throughout the years, the company has introduced numerous convenient features, such as X-Ray, to enhance the appeal of its streaming service.
However, there exist several lesser-known techniques that might have escaped your attention. Here, we present several indispensable tips for Amazon Prime.
Setting up Amazon video quality
You can choose your preferred video quality in the Prime Video mobile app or an Amazon Fire TV device.
Thair is a very simple way to choose on a mobile app first you need to tap on "My Stuff" of the prime video you'll find on the bottom right, then go to the settings Section at the top right, and now you can choose the option "Stream & Download".
You can adjust the streaming quality and download quality separately. The available options are Data Saver, Good, Better, and Best. Keep in mind that the better the quality, the higher the traffic consumption.
When viewing in the worst quality, the data consumption will be about 140 MB. In the best resolution – 1.82 GB per hour. You can enable the setting to have the mobile app activate maximum quality only when connected to the Internet.
If you're watching on a PC or laptop, click on the settings cog at the top right when playing a movie or TV show to choose the video quality.
For devices like smart TVs and laptops, Prime Video will automatically adjust the streaming quality based on your device and available bandwidth. If your internet connection is not fast or stable enough, the video quality will decrease accordingly.
Watch Offline
Prime Video simplifies the process of downloading movies and series, but this functionality is exclusive to the mobile app on your convenient device. Moreover, direct downloading of content on your system is not supported.
To enjoy your desired TV program or film, simply navigate the mobile app, locate the download symbol, and select your preferred content. You can either download a complete season of any show or series or choose specific episodes by scrolling down.
When offline, access your downloaded content by selecting "My Stuff" in the lower right corner and navigating to the "Downloads" section.
Open Blocked Movies
Amazon Prime, like other streaming services, blocks most of its library depending on your region.
If you use a VPN for TV where you watch Amazon Prime Video, you will be able to unblock all content. This Amazon Prime VPN is capable of changing your location to any location in 89 countries in the world.
VeePN has 2500+ VPN servers and they successfully bypass regional blocking of any services.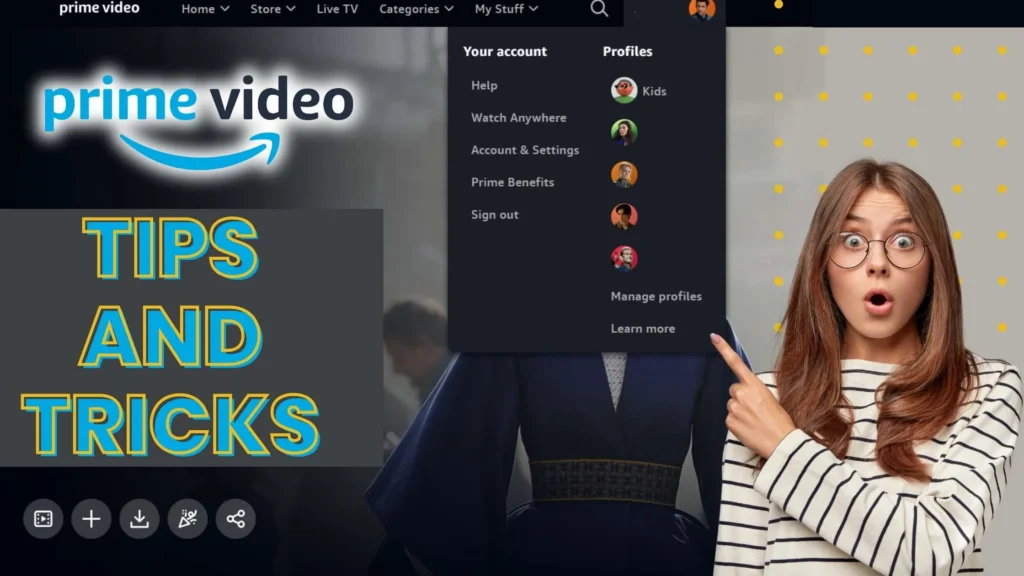 Customize the Subtitles
To customize your viewing experience on Amazon Prime Video, you can turn subtitles on or off and personalize their appearance according to your preferences:
When streaming content, click on the bubble symbol located at the top of the screen.
Alternatively, you can navigate to the same symbol by using your arrow keys or the up arrow on your TV remote, specifically applicable to smart TVs.
To enable subtitles, access the Subtitle Settings option, where you can modify the type and size of the subtitles.
To access additional customization options for Prime Video on your browser, open Settings, navigate to the Subtitles section, and scroll until you find the Edit option next to the preset option.
From there, you can adjust the font, size, borders, and opacity to your liking. Remember to save your changes when you're done.
Edit Your Watch History
At times, you may find the need to remove an outlier TV show or movie from your Amazon watch history to improve algorithmic recommendations or conceal your reality TV addiction.
The process is simple, but it requires logging into Prime Video via a web browser.
Access the Settings menu, then navigate to Watch History and click on View Watch History.
This will open a new tab containing a comprehensive list of all your watched content. To remove specific entries, click on "Hide This," or select the checkbox labeled "I prefer not to use this for recommendations." Additionally, you have the option to rate videos on a five-star scale.
Edit Amazon Continue Watching List
To modify the "Continue Watching" list on Amazon Prime Video, you can edit the carousel found on the homepage if any suggestions don't meet your satisfaction.
At the top of the Continue Watching section, you'll notice a small Edit button. Clicking this button will expose options to delete each specific piece of content shown. Feel free to remove any show or movie as desired, and once finished, click the Done button in the top right corner.
Turn Off Auto Play
To turn off the autoplay feature on Amazon Prime Video, go to the settings and navigate to the Player tab. In this tab, you'll find a convenient option to disable Auto Play.
By doing so, you can take control over what you watch and avoid getting caught up in binge-watching sessions that streaming services use to entice you. Take charge and enjoy a more intentional viewing experience on Amazon Prime Video.
Conclusion
Amazon Prime Video is quite customizable and you can get the most out of it. We have already given you useful tips that will help you enjoy yourself more and be less annoyed by unnecessary titles in your lists or incorrect video quality.